HOW IT ALL BEGAN
Having spent my childhood pursuing deer and small game throughout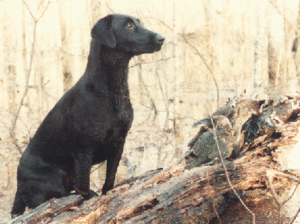 the southern piedmont region of NC, I was introduced to the sport of Waterfowling during the late 70's while at college at North Carolina State University.   My first "serious" waterfowling experience was a goose hunt on Maryland's famed Eastern Shore where I shot my first Canada Goose and, needless to say became forever hooked on the sport!.   After I returned home, it wasn't long before I began to canvass the ponds, swamps, and rivers of North Carolina in search of ducks and geese.  It didn't take to long to realize that if I was going to pursue these birds, I was going to need a dog.   Through a friend of mine I got my first dog (a mix between a Chesapeake and a lab) that named Smokey and I trained her to be a working retriever.  It was working and hunting with Smokey, which sparked my interest in retriever training that eventually laid the foundation for the dogs and kennel I have today.
THE DOGS

Back Creek Kennel (BCK) was established at its present location here in Mount Ulla, North Carolina in 1990.  However, the foundation dog for many of the retrievers that currently reside at BCK actually arrived in 1982 in the form of a black female puppy bred from two Labradors owned by goose hunting guides on Maryland's Eastern Shore.  This dog was named "Pepper" (WR Parker's Dash O'Pepper), and she quickly established herself as an outstanding retriever both in the field and in early NAHRA Hunt Tests.  Pepper's natural hunting ability was evident at a very early age as she made impressive retrieves on a variety of fowl beginning as early as 5 months of age.  Prior to the advent of organized retriever hunt tests, Pepper competed in and won several local gun dog field trials.  When licensed NAHRA Hunt Tests began in the mid 80's,  Pepper quickly acquired enough points to achieve NAHRA's Working Retriever Title.  Already outstanding on doves, ducks and geese, Pepper began accompanying me on my annual pheasant hunting jaunts to Nebraska and Kansas.  I quickly found out that she was right at home flushing ring necks during the day, and sharing my bed in the motel at night.  Tragically, Pepper's life was cut short as she was the victim of a terrible condition called "bloat", which causes a dogs stomach to twist, cutting of the organ's blood supply.  Pepper was put to rest, and will forever be known as the foundation dog for Back Creek Kennel.
Fortunately, Pepper had passed on her desire and ability in the form of a black female named Lacey (WR Pandora's Black Lace), who was born in 1986.  Lacey came in a slightly larger package, with plenty of desire and ability.  She excelled on all types of feathered fowl as well as NAHRA Hunt Tests where she earned her Working Retriever Title after passing 5 hunt tests in 5 attempts!  Lacey also traveled around the country with me pursuing waterfowl as well as upland game.  Although her desire in the pheasant field was intense, it soon became apparent that waterfowl was her first love.  Many a morning while Lacey and I sat in the blind watching ducks circle, I could feel the blind shake from her trembling waiting for the eventual shots and her release.  I am thankful that Lacey had a long and fruitful hunting career because she became diabetic in her 8th year.  Even with the disease, Lacey continued to hunt through the fall and winter of 1994-95, albeit somewhat slower than in past years.  Lacey lived until June 6, 1995, when she passed away due to diabetic complications.  Lacey was buried near Lake Norman State Park at a location she and I had hunted together many times and where she had made many memorable retrieves.
While Lacey was alive, she produced two litters – the first of which produced Abbey (Back Creek's Abbegale), who was born in 1990.   Abbey was a product of Lacey and GMHR-WR Poore Boy's Mick, a yellow male.  Slightly shorter and blockier in stature, Abbey (and one other puppy in this litter) was the first sign that this line of labs I carried the fox-red color gene of the yellow Labrador.   It soon became apparent that Abbey was far different from Pepper and Lacey in terms of temperament.  Much more methodical and laid back in her hunting style, Abbey did not have the stylish water entry nor did she have the speed that her mother and grandmother had when making retrieves.  Her special trait was that she never wanted to give up on a retrieve, even when it seemed the bird had escaped.  Many times I would allow her to hunt when other dogs had given up on the cold trail and Abbey would stick with it, often times returning with game that I thought was lost!  Quite the opposite of Lacey, Abbey's forte' was the pheasant field where in her prime, she held her own with the best.  Her slow, methodical hunting style was perfect to find those wily ring necks that many other (faster) dogs and hunters had overlooked only to have Abbey roust them out from their hiding place.  Once her tail began wagging, you knew she had made birds and you had better get ready for a flush!  An added bonus was her ability to point just as staunch as any bird dog!  Abbey made one last trip to Kansas in 1999, where she showed us that she still knew how to find those elusive roosters.  Abbey died in May 2003.
Lacey's second litter, a breeding with Boz (GMHR-WR Gwen's Man Bozworth, MH), produced another BCK dog:  Pepper (B.J.'s Black Hot Pepper) born in 1993.  Pepper was originally sold as a puppy to a good friend of mine, but I eventually bought Pepper back after her owner had accumulated too many dogs and Pepper became the odd one out.  Pepper had the desire and style that I looked for in a dog, and with Lacey having passed on, I wanted a female that was related to the line of dogs I had been breeding.  Pepper more than fit the bill.  With size, speed, and intense drive, her overall athleticism really made her stand out.  Pepper excelled both in the pheasant field (she was also a natural pointer!) as well as the duck blind.  I qualified Pepper in two AKC Senior Hunt Tests, but by that time kids had arrived and I had to back off the hunt test game.  Many of Pepper's puppies went on to hunting/field trial homes, and one of her pups, Reese (Back Creek's Rebel Mania), was one of my primary retrievers for a number of years until she passed away in 2012.
In August, 2006, I decided to branch out from Labradors and I acquired a Golden Retriever puppy from a well-known breeder in Maryland.  I named her Nelli (Back Creek's Happydaug Benelli) and during her time at BCK she has far exceeded my expectations.  Nelli became one of the most impressive retrievers in my kennel both as a waterfowl dog and an upland hunter.  It didn't matter how cold it was nor how thick the cover, Nelli loved to hunt and still stands as one of my all-time favorite retrievers.  In 2010, I had an opportunity to add a Boykin Spaniel to my kennel.  I named her Nicki (Back Creek's Nicki) and I couldn't have picked a better representative of the breed.  Nicki has become my favorite dove dog and accompanies me on many of my local waterfowl hunts.  In 2010, I added a black Lab named Jetta (Back Creek's Fowlin' Around) who is a duck retrieving machine, and in 2014, I added another Boykin named Georgia (Back Creek's Georgia Girl).  More info on my current dogs can be found on my
Back Creek Retriever's
page.